Tamrob
Patron Saint of the Pub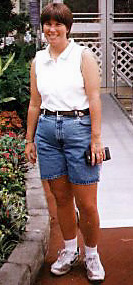 Hello, I am Tamrob but if you are from the Pub chances
are you already know me.*S* I am a 30 yr. old female from Ohio whose
many interests besides Xena are computers, sports especially Tennis and
Softball,nature, animals(some pubsters fall in that catagory),music and
movies.
As you can tell by my pic I look more like my father Pierce than
My RooMom, but I have her disposition. *Giggle*
I am happy to be a part of this loving Clan!


Take me back to the Family Tree

Take me back to the Clan Roux

Take me back to the Main Page